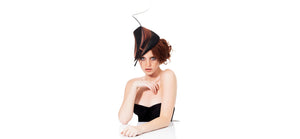 Dark Desert
---
Dark Desert is the first collection I made dedicated to my home country. I am proud
to be Israeli but also aware to its political situation. My collection shows the contrast
that I am constantly in. It portrays both the beautiful landscapes and colors of my
country as well as its fragile political climate.
I used different techniques to create the hats while combining felt, silk, leather, thermoplastic, straw and multiple selection of feathers.
---