Maor Zabar
Maor Zabar Hats is a couture millinery atelier based in Tel-Aviv, specializing in surreal and unexpected pieces of art to wear a top your head.
What's new
---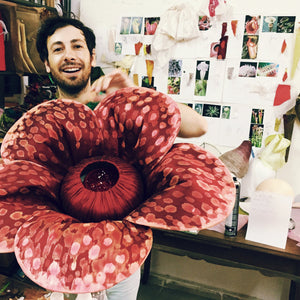 We are very excited to start our online workshops! My hat brand started 10 years ago. I turned my passion for hats designing into a profession by self-learning by trial and...
GINA Gallery curated an historic exhibition in which Israel's leading fashion designers will be launching a unique collection of apparel, hats, shoes and jewelry inspired by the world of Naive...
Coming Soon - New exhibition at the Design Museum Holon. Let's have a look my work in progress. More details>> www.dmh.org.il
Editorials
---
 Photographer: Tamuz Rachman Millinery studio: Maor Zabar Hats Makeup artist: Or-Yair Bitton Hair stylist: Tslil Kapash Models: Yuval Bochan, Workenesh Genanew, and Daniel Shtaiman for Yuli Group FOR THE ARTICLE 
Photoshoot inspired by TLV Fashion Week 2022. The Opening event was a show which created by collaboration with the Israeli Ministry of Agriculture in which I presented several original and unique...
In quarantine, alone. Sterile and grasping for a touch of purity, some connection to the world. All that remains in this confinement is designing for the sake of art. Using...